Close
Best Rate Guarantee
Book your all-inclusive Stay
|
You have unlocked your Insider Rates! Enjoy your savings!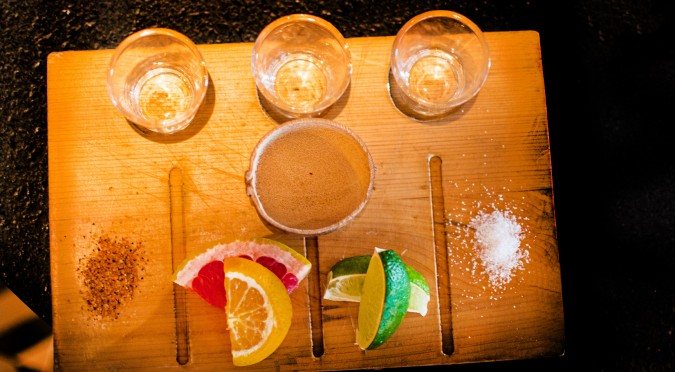 Tequila & Mezcal Tasting – Q Life Experience
Aug 26, 2021
Tequila and mezcal are the national spirits of Mexico and are growing in popularity. What makes them so appealing? How do they differ? What goes into their distillation? A brand-new Q Life Experience gives attendees the answers. Led by a master of tequila and mezcal, the program will be sure to quench your curiosity. Here are a few spirited facts to whet your palette.
Tequila is the oldest distilled spirit in North America. It is made from only one ingredient cultivated in the highlands of Jalisco: blue Weber agave. The heart of the plant, called the pina, is steam-cooked or baked for many hours, crushed to produce a juice or juice-pulp mixture, and then fermented and distilled.
If the tequila is to be a blanco or white version, it is bottled immediately. At Quivira Los Cabos and Pueblo Bonito resorts, Blanco tequila is generally used to make the Margarita, Cabo's most popular cocktail.
Reposado or rested tequila, reposes in oak barrels for up to 12 months, acquiring roundness and a light straw color from its time wrapped in wood.
Anejo or aged tequila spends up to three years in the barrel, infusing the spirit with a caramel color and a velvety mouthfeel.
Cristalino is anejo tequila that has been filtered to remove its color. The result is a smooth, clear tequila that has the complexity of an anejo and the crisp notes of a blanco.
Mezcal is produced using centuries-old techniques initiated by Spanish conquistadors who distilled the fermented mash made by indigenous cultures. Originally known as aguardiente or blazing water, mezcal can be made from nearly 30 different varieties of agave, with no two bottles alike.
In more than 1,200 rustic mountain villages in Oaxaca, the state in Mexico where 70% of mezcal is produced, hearts of agave, usually espadin, are roasted in the earth over a wood fire, crushed by mule-drawn millstones, and fermented in small batches.
Mezcal can vary greatly in taste from one distillery to the next due to differences in rainfall, heat, altitude, and soil composition where the agave is grown.
Mezcal, which has a strong smoky aroma and flavor, is generally drunk straight, often with a few orange slices on the side.
As part of your exclusive Q Life Experience, enjoy tasting three premium tequilas--white, reposado, añejo or extra añejo-- and a premium mezcal renowned as one of the finest on the market. Traditional Mexican snacks carefully selected to complement particular spirits will enrich your hour-plus experience. These will include tostaditas de cochinita pibil, pumpkin flower patty with cheese; potato soup with chorizo; and homemade chocolate or bitter cocoa for dessert. And worry not; we won't drown you in textbook details. Expect to learn about the rising international demand for tequila and mezcal, how to discern a good tequila or mezcal label from a bad one, and tips to avoid a hangover.
Reserve your seat with the concierge or at the Siempre restaurant today. Tastings are scheduled every Wednesday at 5:30 p.m. at the Refresca Tequila Bar in Siempre at Pueblo Bonito Pacifica Golf & Spa Resort.
.