Close
Best Rate Guarantee
Book your all-inclusive Stay
You are an Insider now! Enjoy your savings!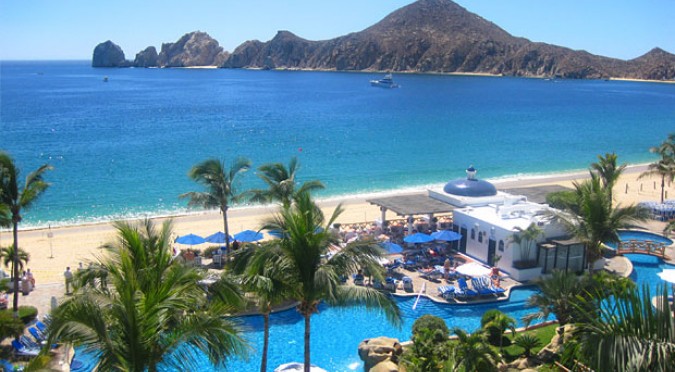 20 Facts You May Not Know About Los Cabos
Whether you are a seasoned Cabo visitor, or have just begun your Cabo vacation tradition, you're bound to learn something new from the list below. Los Cabos is an enchanting place to visit, with lots to do and much to learn about the area. We have put together a list of useful, interesting facts for your enjoyment. Be sure to peruse the list before your next trip to Los Cabos, the most fascinating getaway in the hemisphere!
1. Situated 30 miles south of the Tropic of Cancer, Los Cabos enjoys a mild Mediterranean-like climate. The average year-round temperature is 78°F. With 340-plus days of sunshine per annum coupled with low humidity and cooling sea breezes, Los Cabos is a tropical paradise. Warm, mild days and cool evenings prevail from November through July. The rainy season in Cabo usually occurs from August through mid-October. The region receives an average of six to 10 inches of rain annually.
2. Situated at the tip of the 1,000-mile-long Baja Peninsula, Los Cabos is the designated name for the destination's 20-mile coastal Corridor. This Corridor is bookended by San Jose del Cabo, a charming colonial town built circa 1730; and Cabo San Lucas, a pulsating party capital with a world-class marina.
3. In Spanish, "Los Cabos" means "The Capes." "Cabo San Lucas" translates to "Cape St. Luke;" "San Jose del Cabo" translates to "St. Joseph of the Cape."
4. Los Cabos is on Mountain Standard Time, same as Denver and El Paso.
5. El Arco (the Arch) refers to the famous rock formation that juts out of the ocean where the Sea of Cortes meets the Pacific Ocean. Land's End (Spanish: El Finisterra) is the name of the entire assemblage of rocks, including the Arch, the Window to the Pacific, Lover's Beach and more.
6. There is a popular dive spot near Land's End that features an underwater sand waterfall, where sand cascades to a 1,200-foot canyon below. This rare phenomenon (for advanced divers only) was first discovered by Jacques Cousteau during his adventures in Baja California in the 1960's.
7. Jacques Cousteau once called the Sea of Cortes "The Aquarium of the World," referring to the abundant schools of large fish and teeming marine life. You will hear this coined expression many times from various snorkeling and diving vendors.
8. Nicknamed "Marlin Alley," Los Cabos is a premier sport-fishing capital. More big-game fish are caught here than anywhere else in the world. Catch and release is the general rule for billfish. Blue and black marlin season runs from June through December. Striped marlin are plentiful year-round. Sailfish are taken from April through October. Tuna, dorado, wahoo and roosterfish are among the prized species that swim in these nutrient-rich waters. Cabo is also home to the Bisbee's Black & Blue Marlin Tournament, the world's richest fishing competition, which is held every October with a jackpot that averages $3.5 million.
9. Starting in early December and continuing through mid-March, hundreds of whales migrate 6,000 miles from the frigid waters of the Arctic Ocean to the warm, calm waters surrounding the Baja Peninsula. Balmy weather, ideal salinity and abundant marine life make the bays and lagoons around Los Cabos the perfect place for whales to birth and rear their young. Of the eight species that venture to Los Cabos, the most popular are the humpback whales, which routinely spout close to shore and thrust themselves out of the water in fantastic leaps. Whale-watching excursions that depart from Cabo San Lucas marina are a great way to observe these magnificent animals.
10. The most popular beach in Cabo is Medano Beach (Playa El Médano), where Pueblo Bonito Rosé and Pueblo Bonito Los Cabos are located. Here you will find plenty of beach vendors, activity rentals and popular beach restaurants such as The Office and the Mango Deck.
11. The water can be unsafe for swimming at some Los Cabos beaches--the Pacific Ocean and portions of the Sea of Cortes have strong, potentially dangerous undertows. Beaches zoned as not safe for swimming are marked with safety flags (red means danger). Safe swimming beaches in Los Cabos include: Medano, Chileno, Palmilla and Santa Maria Bay.
12. For those who like to surf, Cabo San Lucas offers diversity in location, break direction, level of difficulty and beautiful coastal scenery. Zippers, Monuments and El Tule are favored by advanced surfers, whereas Playa Acapulquito is a perfect spot for beginners.
13. It is safe to drink the water in most places in Cabo. In general, hotels, bars and restaurants in Los Cabos use filtered water systems (including all Pueblo Bonito resorts and restaurants). If you are worried about the water, you can order bottled water ("Una botella de agua, por favor").
14. If you are looking for a night out on the town, downtown Cabo San Lucas—a town whose name is practically synonymous with "nightlife"—is the place for you. Many restaurants are open until midnight or even 2 a.m., and most clubs and bars are open until 3 or 4 a.m. You'll find everything from funky bars to swanky clubs when you explore the exciting downtown area.
15. The drinking age in Cabo is 18.
16. U.S. dollars are widely accepted in Los Cabos. Most restaurants and retail outlets list prices in both dollars and pesos. However, if you do use dollars, you will most likely get pesos as change. Also, all major credit cards are accepted in Los Cabos. If you need cash, there are many ATM's in Cabo, but be aware that most will dispense only in pesos.
17. Most of the people who work in the tourism industry in Cabo speak English. It is quite easy to find English-speaking tour guides, hotel managers, servers and even doctors. However, many people will appreciate you trying to speak a little Spanish: "hola" (hello), "por favor" (please), "gracias" (thank you), and "de nada" (you're welcome) are great starters. Vendors can and will approach you to try to sell you things. If you would like them to go away, a kind "no gracias" is the appropriate phrase.
18. If you hire a taxi, be sure to agree on how much before you get in. Most resorts have set rates to certain locations; the bell staff will help you arrange that rate with the taxi driver. Keep those rates in mind when you return back to the hotel.
19. Los Cabos International Airport (SJD) is 45 minutes from Cabo San Lucas (about 25 miles).
20. Los Cabos has quickly established itself as a world-class golf destination. It all started in 1992 with the opening of Palmilla, the first Jack Nicklaus Signature design in Latin America and the first to incorporate the region's unique mountain, desert and ocean elements. Nicklaus has returned to build five additional layouts, single-handedly catapulting Los Cabos into the golf vacation stratosphere. (Los Cabos now has 15 golf courses, with more on the way). Jack's latest effort, Quivira Golf Club (2014), is a breathtaking course within the Quivira Luxury Development at Land's End that skirts sheer granite cliffs high above the thrashing sea.
Visit one of our five Cabo San Lucas resorts.