Close
Best Rate Guarantee
Book your all-inclusive Stay
You are an Insider now! Enjoy your savings!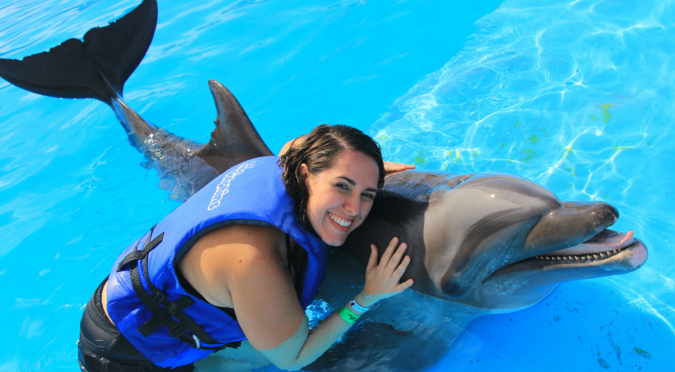 Highlights from Real Pueblo Bonito Vacations: "My Dolphin Signature Swim at Cabo Adventures"
Coming in far ahead of the pack, Cabo Adventures is reviewed as the best organization to offer tours and activities in Cabo San Lucas and San Jose del Cabo. They offer a number of once-in-a-lifetime adventures and excursions for travelers of all ages, but the one I couldn't resist booking was the opportunity to swim with dolphins.

After a brief introduction I was paired up with a 9 year old female dolphin named Ukalaii. I was a little nervous at first, but that quickly changed once we started swimming together in the saltwater pool. My reservations immediately turned to fascination with this incredibly intelligent and naturally playful creature. Right away she gave me a wet hug and a big salty kiss, but my favorite part was her infectious laughter. I simply couldn't stop smiling, and I felt like a kid all over again.

My instructor Carlos gave me a lot of insights into the training, habits, and life span of dolphins without interrupting the intimate experience. One minute I was busy learning and the next I was hand to fin with Ukalaii for an exhilarating underwater ride. I could not use my camera during the encounter but the staff was able to capture some amazing pictures of my time with Ukalaii. It's the perfect excursion to do solo, with family or a group of friends. Dolphins are great with children too and I cannot express how thankful I was to experience swimming with them in Cabo.

Click here to view our Cabo hotels, or here for more information on Cabo Adventures' Swim With Dolphins.