Close
Best Rate Guarantee
Book your all-inclusive Stay
You are an Insider now! Enjoy your savings!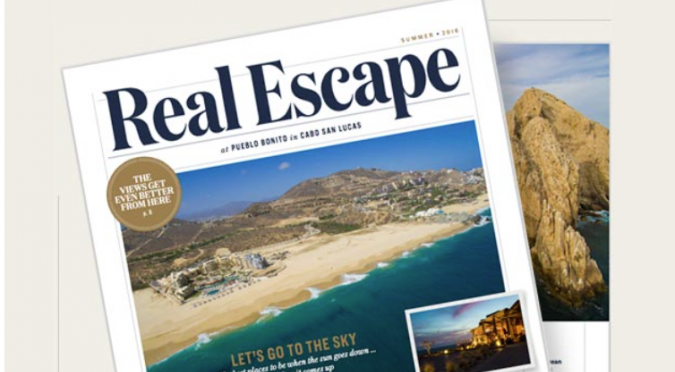 Real Escape in Cabo San Lucas | Pueblo Bonito Resorts
This summer's issue of Real Escape at Pueblo Bonito in Cabo San Lucas features all kinds of exciting content! It starts with the best views in Cabo to see both the sunrise and sunset, (The Sky Pool at Sunset Beach for the sunset, and sunrise from the beach at Pacifica). Next, readers can learn about some of the Los Cabos chefs and their philosophy on food, along with some elegant photos of plates that will have your mouth watering. Also included are the best ways to see the iconic El Arco up close and personal. Just hop on a boat with Cabo Adventures and they'll take you on a cruise right up to the famous landmark. Readers then take a "road trip" through the eye-popping scenery of the Quivira Golf Course, which includes endless beaches, dramatic cliffs, delicious tacos at the Oasis Station; even the chance to spot whales breaching the surface of the ocean as the golfers practice their swing.
This is followed by a preview of both the exclusive new expansion, The Towers at Pacifica, as well as the butler service that will accompany it, turning relaxation and accommodation into an art form. After that, readers get the story behind the incredible glass hearts that hang in the trees around Pacifica, which are made from recycled glass bottles and turned into art at the San Miguel Blown Glass Factory, which makes everything by hand and produces more than one hundred and fifty pieces a day. Finally, there's the "Full Time Getaway" at Copala and Coronado, where travelers can make a permanent move to the Los Cabos area and enjoy exclusive Pueblo Bonito amenities, including restaurants, spa treatments and golf. There's that and so much more, so start turning the pages to see for yourself!