Close
Best Rate Guarantee
Book your all-inclusive Stay
You are an Insider now! Enjoy your savings!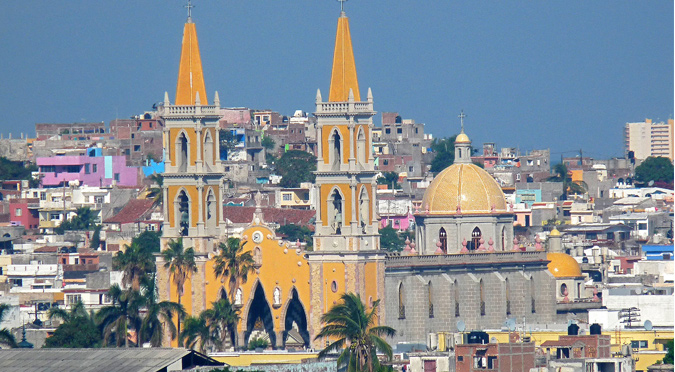 Top 10 Things to Do in Mazatlán
Mazatlan is a city that's full of amazing things to do and experience, with a rich history and culture. And while we definitely recommend exploring every inch of Mazatlan and seeing all it has to offer, these are the top ten things you simply have to check out before it's time to head back home.

1. Old Mazatlan. Centro Histórico, or Old Mazatlan, is home to some of Mazatlan's most beloved historical sites, with stunning architecture, wonderful restaurants and plenty to see and do.

2. Malecón. This gorgeous four-mile boardwalk is the gateway to the Golden Zone and is decorated with beautiful statues and monuments. Perfect for running, biking, skating or just taking a seat on one of its many benches and watching the sun set over the sea, Malecón is the city's waterfront backbone.

3. El Faro Lighthouse. Seated atop Mazatlan's highest hill, Cerro Creston, the El Faro Lighthouse is at the end of about a half hour hike. The hike is not too difficult, and at the top, you're rewarded with an incredible 360-degree view of the surrounding area. This is definitely a trip where you want to bring your camera (and some water; it can get hot on the trail!).

4. Plaza Machado. Surrounded by beautiful French and Spanish architecture in Old Mazatlan, the plaza is a great place to go for food, people-watching, and enjoying free music and dancing by artists in the square. Often, you will find handcrafted goods and paintings for sale. No matter when you visit, there's always something to capture your imagination.

5. Mazatlan Aquarium. One of the best aquariums in Mexico, it houses more than 250 species of fish, as well as a marine museum, walk-through aviary, Gulf of Mexico Oceanic Fish Tank and a crocodile and frog area. They offer educational shows and programs and are devoted to the conservation and protection of the environment.

6. Playa Olas Altas. A beautiful beach along the Malecón, with a tranquil atmosphere and golden sand, Playa Olas Altas offers great surfing waves, as well as adjacent cafes and beach vendors selling everything from drinks and candy to jewelry and shoes.

7. Immaculate Conception Cathedral. An amazing sight to behold, the cathedral is immense and worth snapping plenty of photos of. Guests can also take a tour of the inside. However, it is still in use for Catholic Mass, so if you do venture inside while not on a tour, please remember to be respectful.

8. Angela Peralta Theater. A historic, classical theater that has been renovated and restored, the Angela Peralta Theater is full of charm and beauty and plays host to a wide variety of performances, including opera, ballet, concerts and more. Come for a show and you'll find yourself staring at the elaborate structure and decorations as much as what's going on onstage.

9. Deer Island. For a relaxing day away from the crowds, take a trip over to this uninhabited island for rides in banana boats, snorkeling and kayaking. Visitors will often spot dolphins, sea lions and other wildlife as well. Be sure to pack a cooler for a picnic lunch!

10. Deep Sea Fishing. Mazatlan sits at the mouth of the Sea of Cortez, which means it's in the prime location for many different kinds of fishing. Hire an expert to take you out on the water to the best fishing spots, or rent a boat on your own and spend a quiet day at sea with your rod and reel.
*"The Cathedral of the Immaculate Conception rises above Mazatlan's old town, Mazatlan" by (WT-shared) Shaund is licensed under CC BY 2.0