Close
Best Rate Guarantee
Book your all-inclusive Stay
|
You have unlocked your Insider Rates! Enjoy your savings!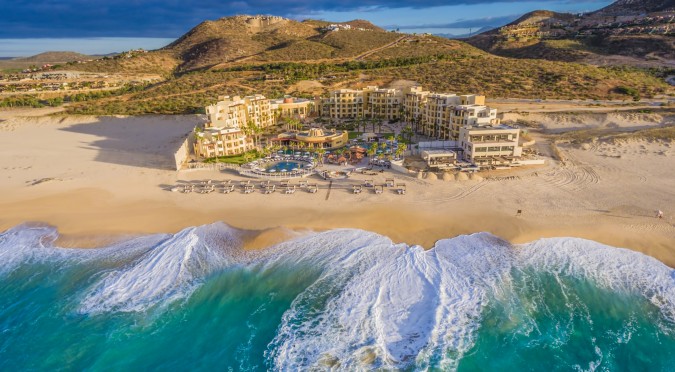 Pueblo Bonito Pacifica Earns 2023 Condé Nast Traveler's Readers' Choice Award
Oct 03, 2023
A toast to our very own Pueblo Bonito Pacifica Golf & Spa Resort, recognized within the "Top 20 Resorts in Western Mexico" list as part of this year's Condé Nast Traveler's Readers' Choice Awards. The coveted awards highlight selections by a quarter million of some of the world's savviest travelers: the publication's cosmopolitan readers. Showcasing their all-time favorite hotels, cruises, resorts, islands, and more, to earn this level of recognition from the people who live the experience first-hand holds a special meaning.
Several Pueblo Bonito Resorts have received a knowing nod from Condé Nast Traveler readers since 2007, which makes Pacífica's recognition both a point of pride and a continuation of Pueblo Bonito's legacy of quality and service.
Refined, naturally captivating, and unapologetically romantic, staying at Pacifica is an experience tailored for those who seek the sublime. Starting with the harmonious blend between its natural setting and architectural sophistication, Pacifica is designed to evoke the sense of peace and intimacy implied by its name. The resort boasts minimalist design interspersed with subtle elements that echo the rich culture of Mexico. The property's expansive layout ensures each suite offers unobstructed views of either the Pacific Ocean or the beautifully landscaped desert garden.
With an adults-only environment that promotes a tranquil ambiance, the resort has garnered the affection and loyalty of honeymooners, couples, and those seeking a calm retreat. Days at Pueblo Bonito Pacifica can begin with a balancing meditation at dawn followed by a refreshing dip into one of two infinity pools that seem to merge with the ocean.
As with all Pueblo Bonito Resorts, the culinary offerings at Pacifica transcend the ordinary resort dining experience. With a diverse range of restaurants, it celebrates Mexico's rich culinary traditions while infusing international flavors to tantalize the palate. From the fresh-as-the-day seafood caught in local waters to the farm-to-table produce, only the finest ingredients flavor the authentic and innovative dishes served here. The four diverse restaurants and four bars range from casual poolside affairs to opulent dining rooms with breathtaking views.
Wellness and rejuvenation are at the heart of the experience. The world-class spa at Pueblo Bonito Pacífica is a haven for tranquility and regeneration, offering treatments inspired by ancient Mexican traditions using indigenous ingredients. Whether it's a holistic massage, a detoxifying mud wrap, or a spiritual temazcal session, guests are promised an experience that revitalizes the mind, body, and soul.
As for adventure, whether you want to embark on a whale-watching excursion, explore El Arco at Land's End, or simply set off on a desert hike, Pueblo Bonito Pacifica ensures you are just a booking away from crossing off bucket list activities guided by experts.
Beyond all its premier amenities, Pacifica is beloved for its unparalleled service. Our team's commitment to personalizing experiences means our guests feel valued and understood. Every need, whether expressed or anticipated, is met with quintessential Mexican hospitality, making every stay one worth repeating.
We proudly celebrate Pueblo Bonito Pacifica's award and invite you to come find out why the Condé Nast Traveler readers find it to be such a magical place.
.