Close
Our All-Inclusive Oceanfront Resorts
Visit our main site
Pueblo Bonito Resorts
Pueblo Bonito Vantage
Close
Best Rate Guarantee
Book your all-inclusive Stay
|
You have unlocked your Insider Rates! Enjoy your savings!
Dining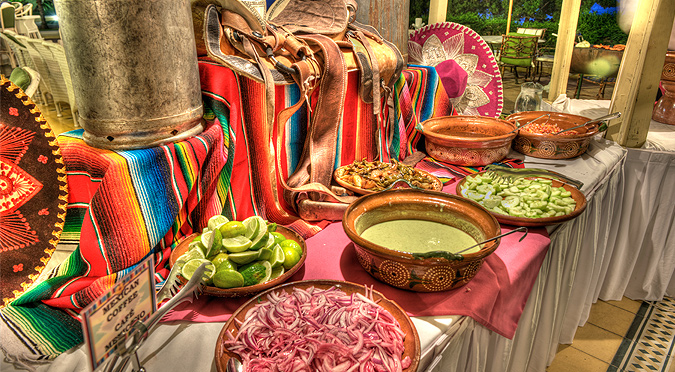 Spectacular Benefits
Save More When
You Linger Longer
Book a stay of seven or more nights and take an additional 10% off your stay. As if you needed a reason to stay longer on our sun-kissed shores.
Learn More
A Culinary World Tour in Mazatlán
With two fine restaurants, several informal eateries and an array of bars, Emerald Estates offers a dining experience to suit everyone. Sip a specialty martini in Kelly's Bar, savor exquisite French cuisine at La Cordeliere, swim-up to the Aquabar for a refreshing tropical drink – even have lunch served to you on our secluded private beach.
La Cordeliere
Among Mazatlán's most delightful dining experiences, La Cordeliere serves exquisite French and international cuisine, as well as festive themed buffets. Dine in a casually elegant setting with spectacular ocean views or enjoy your meal al fresco on the shaded terrace. Live music on Friday and Saturday evenings and Champagne Sunday Brunch are highlights.
Open daily for breakfast and dinner | 7 am – noon and 6 – 10 pm
The Bistro
Swing by The Bistro for an enticing experience of international cuisine, from fresh sushi at the sushi bar to mouthwatering gourmet pizzas. Trendy and modern, this popular eatery serves a fusion of world cuisine and fine wine on a beautiful outdoor waterfront terrace.
Open daily | 7 am to 10 pm
Kelly's Bar
With an exotic décor of fine woods and handcrafted accessories, Kelly's Bar is elegant bar reminiscent of a bygone era. There is an extensive menu of special martinis and fine tequilas, wine and spirits, as well as hors d'oeuvres and options for light lunches.
Open daily | 2 pm to 1 am
Aqua Bar
Swim up to this bar located in the pool by the Sunset Grill. Enjoy a variety of cocktails, sandwiches and snacks as you bathe in the Mexican sun.
Open daily | 11 am – 5 pm
Sunset Grill
Located by the main pool, the Sunset Grill serves exquisite Mexican and international cuisine all day in a casual setting. Enjoy fresh ceviche, enchiladas, tostadas, fresh green salads and more.
Open daily | 10 am to 6 pm
Emerald Grill
Our newest restaurant offers a full menu with fresh salads, sandwiches, snacks and a refreshing selection of beer and cocktails.
Open daily | 10 am to 6 pm
*Restaurant hours and menus are subject to change.
Other Pueblo Bonito Restaurants
Cilantro's at Pueblo Bonito Mazatlán
Enjoy fresh seafood and international cuisine for lunch or dinner in a beautiful oceanfront setting overlooking the beach at our sister resort, Pueblo Bonito Mazatlán. Terrace-style seating with al fresco dining provides a romantic setting in which to enjoy a delicious meal and quiet conversation.
Open daily | 11 am – 10:30 pm
Angelo's Gourmet Restaurant at Pueblo Bonito Mazatlán
Savor delicious Northern Italian and international cuisine in an elegant setting at Angelo's, located in our sister resort, Pueblo Bonito Mazatlán. Enjoy romantic piano music and one of Mazatlán's most popular singers.
Open daily for dinner | 6pm – midnight
Las Palomas at Pueblo Bonito Mazatlán
Offering a delicious menu of traditional Mexican dishes, fine international cuisine, a delicious regional breakfast buffet, as well as an a la carte menu, Las Palomas at Pueblo Bonito Mazatlán has seating indoors and on a beautiful outdoor terrace.
Open daily for breakfast and dinner | 7 am – noon and 6 – 10 pm