Close
Best Rate Guarantee
Book your all-inclusive Stay
You are an Insider now! Enjoy your savings!
Dreams of A
Destination Wedding
Begin Here
Say Yes to

A Free Night's Stay On Us

Start planning your wedding with us and receive a free night to visit our hotels and plan your big day at one of our stunning beachfront resorts in Cabo San Lucas
3 Reasons Why
Brides Love Pueblo Bonito Resorts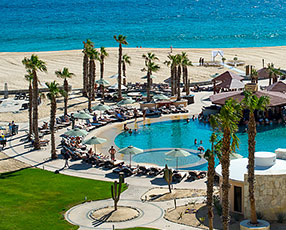 I.
Four Cabo Resorts to Choose From
With four spectacular settings throughout Cabo San Lucas, Pueblo Bonito makes it easy to design the unique wedding of your dreams.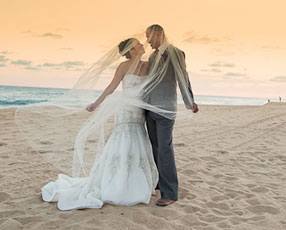 II.
Secluded Beachfront Ceremonies
For a ceremony as exciting and breathtaking as your love, say "I do" on a secluded beach to the sensual rhythms of Pacific waves.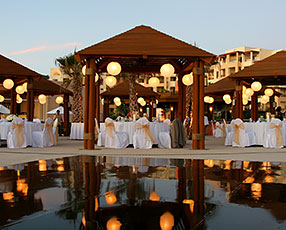 III.
A Variety of Gorgeous Backdrops
Choose to wed on a private beach or celebrate in one of our elegant wedding venues or idyllic meadows just steps from the shore.
The most perfect wedding ever!
Pueblo Bonito Pacifica
I got married at the Pacifica on August 20th, and it was literally the most perfect wedding I've ever been to! They offered nearly everything we needed in one reasonably priced package, and provided me with a wedding coordinator who worked tirelessly to make our wedding perfect. The food was nothing like wedding food I've had in the past. The day was just perfect and I didn't have to do anything but show up- they even did my hair and makeup and set me up with the most reasonably priced photographer who took beautiful photos Everyone loved it and had a blast.
Made this the most wonderful experience
Pueblo Bonito Sunset Beach
Miguel and I are extremely grateful to you and to the Pueblo Bonito family. Your service and hospitality is beyond anything we could have asked for. We brought over 80 of our closest friends and family to your incredible resort and your establishment treated them all like royalty. I could have never dreamed that it would turn out this amazing. I cannot thank you enough for everything that Pueblo Bonito did for us. You really made this the most wonderful experience. We all look forward to coming back very soon. I think you just made 86 new Friends. :)
My Beautiful Wedding
Pueblo Bonito Sunset Beach
I was fortunate enough to have the utmost beautiful wedding at this amazing resort. Words cannot explain the incredible service all weekend from the staff members here. Everyone was so pleasant and accommodating. All of my guests fell in love with the gorgeous ocean and sunset views. There is a view from every room! I cannot thank the resort coordinator enough for going above and beyond with all our requests. She and the entire Pueblo Bonito staff helped bring our vision to life. Thank you to everyone for their hard work and professionalism. We enjoyed our stay very much and couldn't have imagined a more perfect wedding. Can't wait to come back soon.
Perfect Location for a Destination Wedding!
Pueblo Bonito Los Cabos
My wife and I wed on the beach with our toes in the sand at Pueblo Bonito Los Cabos. The experience was memorable to say the least. The service throughout the evening was amazing. Food and drinks were effortlessly served to all guests, with our dedicated host even serving us drinks on the dance floor. Our coordinator's team worked together to make the impossible possible. Because of their efforts, we had what we prayed for: a perfect wedding experience! To anyone considering Pueblo Bonito Los Cabos as your destination wedding venue, look no further! My wife and I could not be more satisfied! We look forward to heading back to celebrate our first anniversary!
Absolute Best Destination Wedding
Pueblo Bonito Pacifica
The absolute best destination wedding venue! The wedding planner was amazing. Anything that was not on the checklist that we requested, she would say, "No worries!" and our request was filled. She added a special touch to the rehearsal dinner, reception, and bonfire after. This included writings in the sand, bling and sea shells on the tables, dinner entrees presented artistically decorated, special reception cocktail, impressive rehearsal buffet dinner, welcome chocolate covered strawberries decorated like the bride and groom, napkins folded to her specifications so as to hold place cards and menus, sea shells on the seats at the ceremony to hold down the programs. If someone wants a destination wedding, this is the place!
At a Glance
Certified wedding specialists
4 all-inclusive Cabo resorts to choose from
Multiple indoor & outdoor venues
Secluded beach ceremonies
Photo & video services
Wedding cakes
Bouquets
Entertainment (fireworks, musicians, dancers, etc.)
Special transportation
And more…