Close
Our All-Inclusive Oceanfront Resorts
Visit our main site
Pueblo Bonito Resorts
Pueblo Bonito Vantage
Close
Best Rate Guarantee
Book your all-inclusive Stay
|
You have unlocked your Insider Rates! Enjoy your savings!
A Greco-Roman Fantasy on
the Baja California Peninsula
Enjoy a pampered vacation to the golden beaches of Cabo San Lucas, Mexico. Pueblo Bonito Rosé Resort & Spa is a deluxe resort located on El Médano beach, one of the most pristine stretches in Baja California. Distinctive rosé-tinted walls, gleaming domes, marble busts and a towering statue of Neptune set the Greco-Roman theme of this upscale, full-service resort.
Up to $75 spa credit
No booking or modification fees.
Choice to Pay In Full or One Night's Deposit.
Free Cancellation Rates Available.
Great resort to stay on Medano Beach
We have been coming for years and enjoy it every single time. Grounds are gorgeous and hotel well maintained. At front desk Iliana Felix is so helpful, professional and aims to please guests it is really a wonderful place to spend your vacation
PB Rose is awesome!
This is by far my favorite place to visit! You are welcomed with a smile from Ana or Italia at the front desk. They are so friendly and wonderful.
"Another Great Vacation on the Beach"
My wife and I just returned from a week in Cabo on Medano beach at the Pueblo Bonito Rose. Rooms were nice and as always Ulysses, David & Sammy were great ! On the only safe to swim beach in Cabo and a short walk to Mango Deck, The Office and downtown Cabo.
Magical Place
Best resort location in town with staff that really want to help you have a fabulous vacation. Great service starts with breakfast (Ulysses and Samuel) then the day moves into tasty beach drinks,sushi and the fabulous service (Guadalupe, Mario, Rioberto). Dinner satisfies all appetites and Pedro and Eduardo makes sure that the wine glasses are always full.
"Best Girls Trip Ever!"
We had the best time at the Pueblo Bonita Rose! The pool is absolutely beautiful and we had no problem getting great chairs by the water every day. Luis is so attentive and always checked in with us to make sure we had everything we needed. Alberto is the best poolside waiter around! Never had an empty drink:) Fernanda was also so sweet and learned my friend and my name immediately, and didn't forget them all week. Overall the best service I've ever had!
It's Time to Cabo!
Explore our Interactive Map
Explore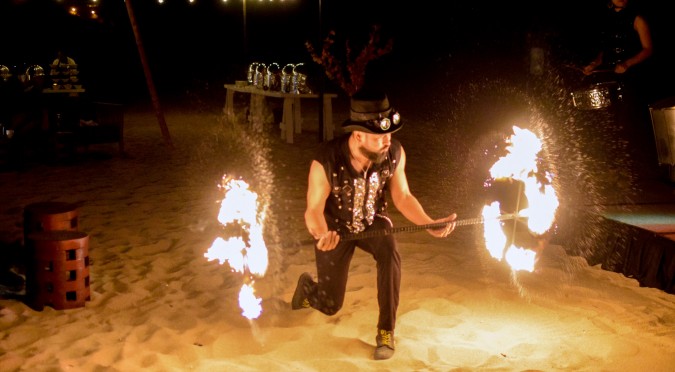 pueblo bonito pointers
Curated by our concierge
Get Down at Pueblo Bonito's NEW Retro Night, Pool Party, and More!
Just when you thought you could have it all, we're giving you more. As if taking a dip in our infinity pool, sipping a handcrafted cocktail at sunset, or tantalizing your tastebuds during a traditional Mexican meal weren't already magical enough—all things you can do ANY DAY of the week at Pueblo Bonito Resort and Spa—we're transforming those everyday events into parties, theme nights, and fiestas. Come celebrate summer weather this winter with a schedule full of new activities and make memories for a lifetime.
Read more