Close
Best Rate Guarantee
Book your all-inclusive Stay
|
You have unlocked your Insider Rates! Enjoy your savings!
Pueblo Bonito's CARE Pledge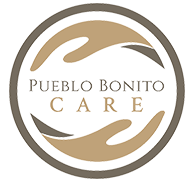 C
onscientious service
A
dvanced standards
R
igorous sanitization
E
levated hygiene
Pueblo Bonito's CARE Pledge
As travel expectations adapt with the changing times, we are continuously enhancing our cleanliness and sanitization protocols. Rest assured that we are taking rigorous precautions to best support the wellbeing of our guests and team members alike. Learn more about our pledge to cleanliness below.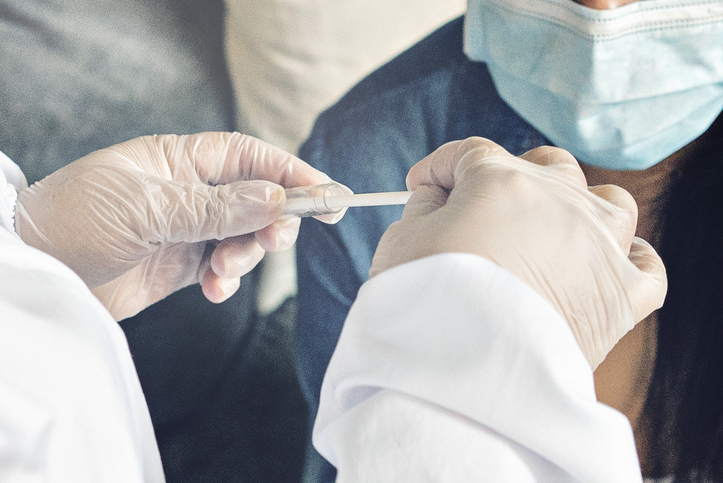 COVID-19 Testing for International Travel
List 1
Effective December 6, 2021, the CDC's newest travel regulations require all air travelers entering the United States, including returning U.S. citizens, to provide proof of a negative COVID-19 test taken no more than 1 day before traveling to the U.S. All travelers will also need to provide written documentation of their laboratory test result, as well as a signed attestation letter

to their airline. Full information available on the CDC website.
Effective February 28, 2022, travelers to Canada will now have the option of using an authorized COVID-19 rapid antigen test result (taken the day prior to their scheduled flight) OR a molecular/PCR test result (taken no more than 72 hours before their scheduled flight). Click here for full information.
Our properties in both Los Cabos and Mazatlán offer onsite COVID-19 viral testing services. Results will be provided the same day, and the official government certification required by the CDC will be available within 24 hours of your test.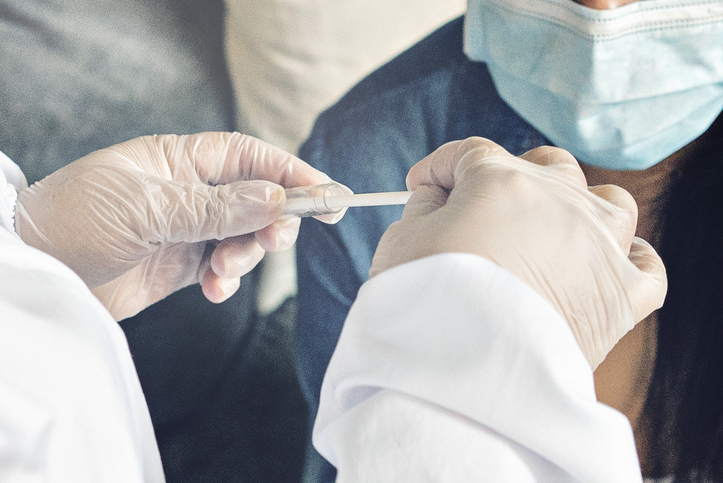 COVID-19 Testing for International Travel
List 2
We strongly recommend that guests schedule their appointment upon arrival at the resorts, or at the latest, 96 hours before departure. Appointments may be made via email, with the concierge, or at the front desk. It is important to remember that travelers must receive a test within one to three days of traveling to reenter the US (one day for those not fully vaccinated, three days for those fully vaccinated).
For guests traveling to countries that do not accept the viral test offered onsite, our concierge will be on hand to help coordinate and facilitate testing with off-site, third-party providers. For guests traveling to Canada who prefer a PCR test, please contact our concierge staff for information on how to make testing arrangements. Those traveling from Los Cabos may also book an appointment here. Please note that PCR tests are not included in any meal plan and that they will have an additional cost.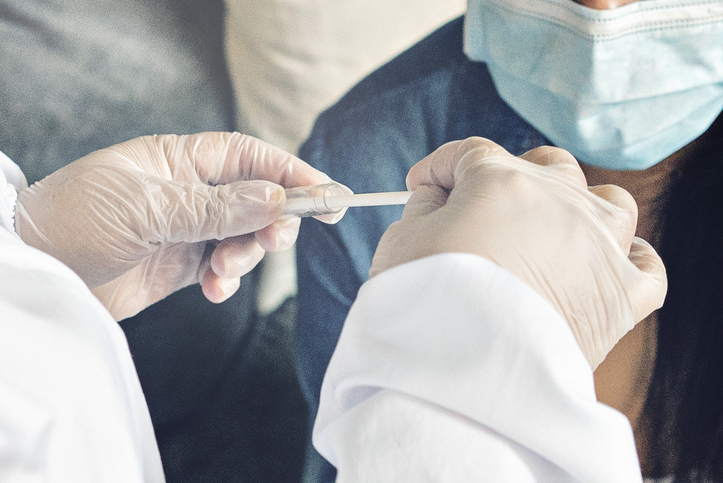 COVID-19 Testing for International Travel
List 3
The tests are included in our all-inclusive plan for stays of 3 nights or longer.
Should a guest receive a positive diagnosis, our resorts have protocols in order to assure that guests can stay safely and comfortably at the resort while they are quarantined.
For more information, please review our

Testing FAQs,

the

Attestation Form

provided by the CDC, or give us a call at 1-800-990-8250.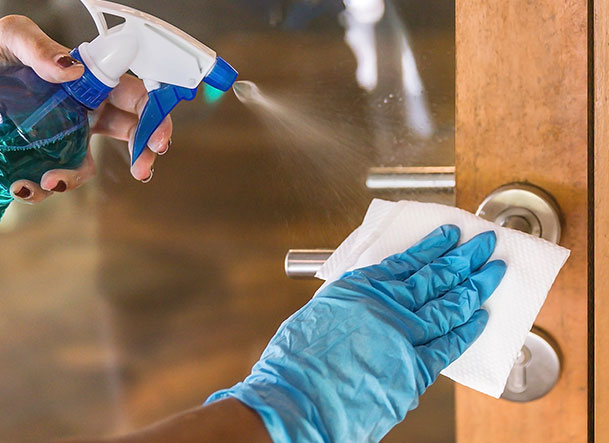 Cleanliness Changes List
List 1
A comprehensive, general sanitization by a certified third party was performed prior to the reopening of the hotels, and will henceforth be performed on a periodic basis, according to the recommendations of health authorities.
Cleaning and disinfection protocols that use certified sanitization products and which focus on frequent cleaning of high-touch areas have been implemented.
Bellboys wear masks and gloves while welcoming guests.
Cars parked through Valet parking are sterilized with an ultraviolet light before being returned to the guest.
Valet parking has been suspended, and doors are not currently opened by Valet staff. Guests receive indications to self-park.
All suitcases are sanitized (externally) via steam cabin, sanitizing products or special devices.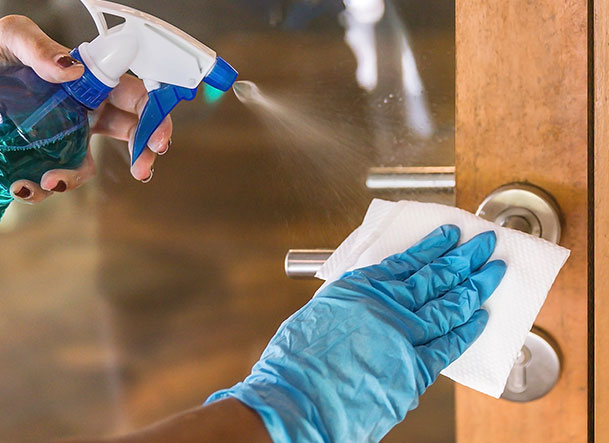 Cleanliness Changes List
List 2
We will conduct suitcase sanitization (external) in the steam cabin or with sanitizing products or special devices.
We will use infrared digital thermometers for temperature checks. Guests with temperatures over 37.4°C/99.32°F will be checked by doctor and may not be allowed access.
Masks will be available on request.
Maximum capacity for each lobby has been established.
We have installed screens to separate check-in areas.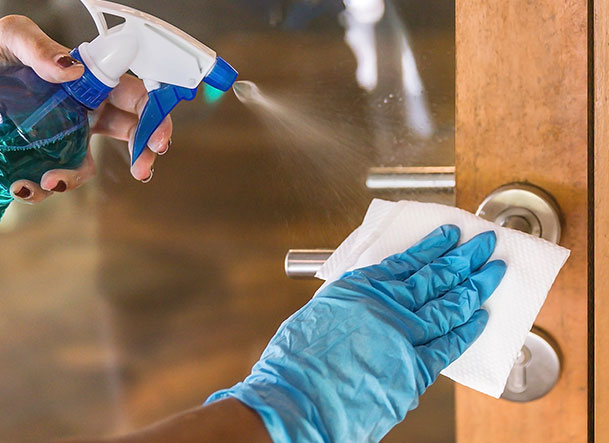 Cleanliness Changes List
List 3
We will conduct daily cleaning and sanitizing of loungers with authorized disinfectant products or with water and chlorine solution—also done after each guest use.
Hand-sanitizing stations have been placed in strategic locations throughout the resorts.
We are enforcing minimum handling of pool towels, and card procedure has been suspended for three months.
A maximum of two persons at a time will be allowed in elevators, with the exception of family members.
Information panels have been set in strategic locations, indicating preventive measures for health and hygiene.
Rooms
Room 1
Room 1
A general sanitization and nebulization of rooms was conducted before reopening, and will be perfermed again once every six months through a certified provider.
Daily room cleaning and housekeeping is carried out with certified sanitization products and a strong focus on high-touch areas, including kitchenettes, furniture, remote controls, phones, electric outlet, light switches, and door handles.
We are washing sheets and towels at high temperatures (min. 60°C/140°F) and transporting linens in previously sanitized vans and crates.
Room 2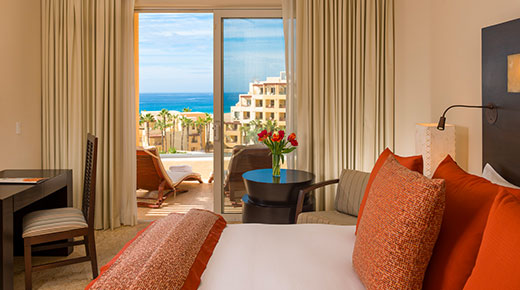 Room 2
All housekeeping staff are required to wear masks and gloves.
Guests may opt out of housekeeping if they prefer to minimize the number of people who enter the room.
Hand sanitizer and sanitizing spray are included as in-room amenities; masks and gloves are available upon request.
Paper amenities, pens, and magazines have been removed from rooms (available on request).
Simple towel folding is performed to avoid longer contact than necessary (no decorative figures).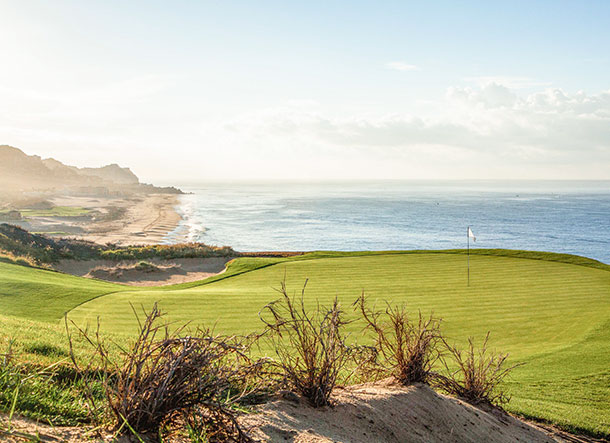 Quivira Golf Club
Golf carts and golf bags are sanitized daily and on a continuous basis, as well as before and after each use.
Golf bags are delivered at the room door.
Maximum capacities have been established for reception and practice areas, and intervals between tee times have been increased to 15 minutes.
Golf carts are limited to one cart per person, unless family members and friends request to share.
We have established new rules established to limit touch points during play (e.g. flagsticks to remain in the hole, bunker rakes to be removed, etc.).
Hand sanitizing gel is available in the Proshop; a member of the sanitization team will provide hand sanitizing gel to protect guests when handling merchandise in the store.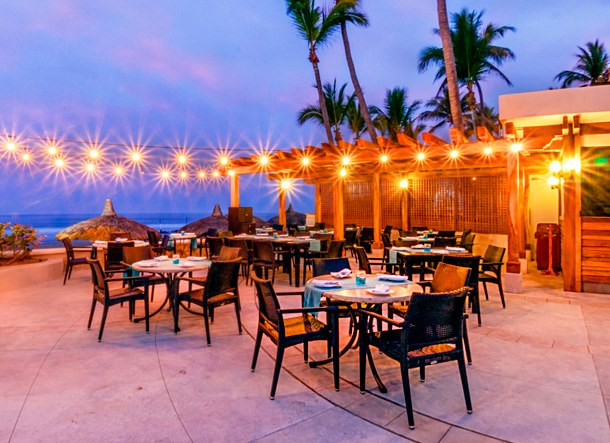 Food & Beverage
Furniture has been rearranged in restaurants and bars (2 meters/6.5 feet) and maximum capacities will be established, per social distancing guidelines.
Social distancing reminders have been added on all tables.
Cooks serving at the buffets are required to wear masks and gloves. The wait staff is required to wear masks as well.
Guests are served by buffet staff so that they do not need to handle the serving utensils.
Contactless room service is available.
To reduce contact, signatures on checks will not be requested for all-inclusive guests until further notice. For EP guests, signature will be required, but antibacterial gel will be on hand and pen and check holder will be cleaned in the presence of the client.
We engage in minimal handling of napkins and tablecloths.
Items on tables (eg. flowers, salt and pepper shakers, etc.) have been removed to reduce high-touch surface areas.
We have implemented and will continue to reinforce the PREVERISK and Distinctive H measures.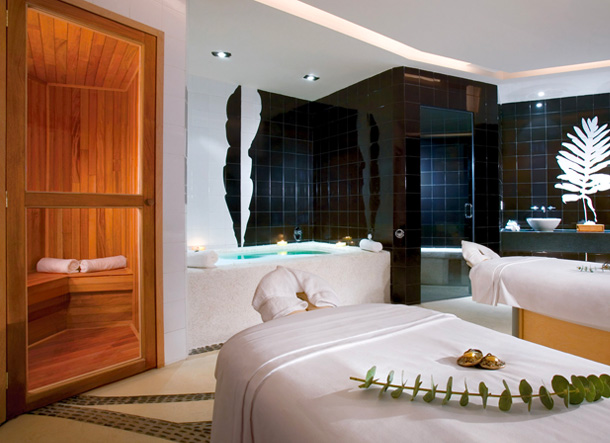 Pool, Spa & Fitness Areas
Loungers in pool areas have been set in groups of 2 or 4, which will then be separated by distances of 2 meters (approx. 6.5 feet).
We conduct sanitization of equipment in Fitness Centers as well as wet areas in Spa after each use. Gyms are also closed briefly every few hours for deeper sanitizing.
Maximum capacity has been set and reservations are required for our Fitness Center
Maximum capacity has been reduced for our Spa.
Use of masks by therapists and other Spa staff in enforced.
We conduct daily sanitation of cabins and wet areas, as well as booth sanitization after each use.
We engage in minimum handling of the pool towels. The guest may take towels directly from the towel rack.