Close
Best Rate Guarantee
Book your all-inclusive Stay
You are an Insider now! Enjoy your savings!
Spa Resorts in Cabo San Lucas: What is Temazcal?

Many spa resorts in Cabo offer a wide variety of spa treatments, some quite exotic sounding. One that caught my eye in particular is something called Temazcal. The word "temazcal" comes from the Nahuatl word temazcalli, meaning "house of heat" or "house bath".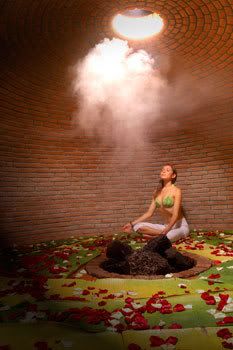 The Temazcal is a steam bath of pre-Hispanic origin utilized for therapeutic, detoxifying and ritual purposes. Historically, it was a ceremony of purification and cleanliness common among the diverse pre-Hispanic groups of Mesoamerica. It signifies a return to the womb of Mother Earth for healing and rebirth as a new person. Some therapeutic benefits that the Temazcal offers are:
filtering and cleansing of the lungs
introspective exploration
menstrual period regulation
release of muscle tension
release of negative energy and stress
treatment of osteoporosis
Similar to a sauna, temazcal participants sit in a small, enclosed hut with a pile of volcanic rock placed in the center. Herbs are thrown onto the rock to create a healing vapor and further increase the temperature inside the hut. The intense sweat that comes with the Temazcal treatment encourages blood flow and increases circulation, heart rate, and metabolic rate.
Group Therapy Temazcals can be had with more than one person inside the hut. These group therapy sessions are thought to be a way to create a bond since the spa is not only small, but dark and very hot. In other words, there is a lot of close-proximity sweating! The treatment is not recommended for individuals with claustrophobia, hypertension, diabetes or cardiac conditions.
Modern Day Temazcal The modern version of the Temazcal sweat bath usually involves an updated chamber instead of a hut, but still retains the therapeutic vapors that define the traditional version. The traditional Temazcal was also intended as a medicinal cure but has since developed into a spiritual experience as well.
Pueblo Bonito Pacifica, one of our spa resorts in Cabo San Lucas, offers the Temazcal service as a cleansing and relaxing ceremony spa treatment for two or more people. A Temazcalero, or Sudador, guides you through the ceremonial process, creating an authentic and safe experience.
For more information on spa resorts in Cabo visit: http://pueblobonito.com