Close
Best Rate Guarantee
Book your all-inclusive Stay
You are an Insider now! Enjoy your savings!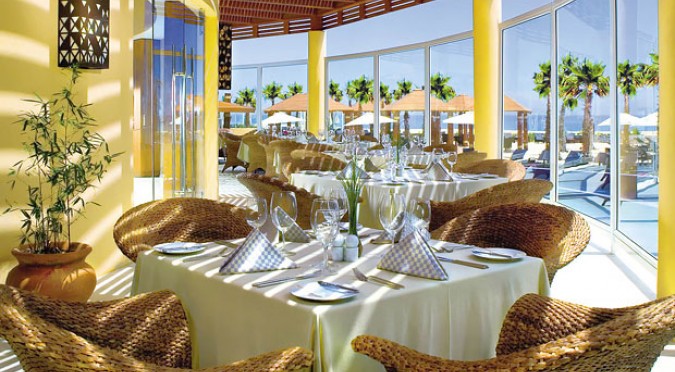 Food & Beverage Improvements Coming to Pueblo Bonito Resorts
Man does not live by bread alone, and the ongoing food and beverage upgrades at Pueblo Bonito Golf & Spa Resorts is ample proof of that fact.
From updated menus to re-themed restaurants, Pueblo Bonito is keeping pace with consumer demand for eclectic cuisines, top-quality ingredients, and contemporary dining spaces.
At The Market at Quivira, which redefined the region's gastronomic "food hall" experience when it debuted last December, the menus at each of the eateries within the spacious 15,000-square-meter facility are changed on a regular basis to inject variety into the bills of fare.
For example, chefs at the 1950's Diner, a classic all-American-style diner accented by red-and-chrome décor, have come up with a new recipe for the best pancakes in the entire resort complex.
Also, Mexico City-based celebrity chef Jose Ramon Castillo, the nation's top chocolatier, will take over La Chocolateria, a signature outpost at The Market that displays fine-quality chocolates. Castillo, inspired by the ancient Maya and Aztecs who pioneered cacao cultivation, will use Mexican cacao in his confections and will introduce new flavor profiles for the shop's bon-bons, truffles and other high-quality chocolates. A new range of sweets is available at La Chocolateria starting in October.
At El Bar, a lively gathering spot featuring a 360-degree panorama of The Market, new wine selections drawn mainly from California, Mexico and South America give patrons an informal place to enjoy wine by the bottle or the glass. A new cocktail menu was also recently introduced, offering a wide range of artisanal cocktails as well as fruit-infused, non-alcoholic drinks.
At Pueblo Bonito Pacifica, Siempre, a circular indoor/outdoor restaurant known for its breakfast buffets and bountiful Sunday Champagne Brunch, will reopen at the end of October, with new furniture, new décor and an entirely new dinner concept. Siempre will still offer a few a la carte items on the menu, but it will also feature an open kitchen with food stations devoted to meat, fish, organic vegetables and a full salad bar. The sommelier will recommend wines to be paired with the food.
Pescados, the casual patio restaurant at Pacifica specializing in sushi, has also recently completed a makeover. The menu has been upgraded and expanded to include more dishes, all made with the freshest, highest-quality seafood.
At Pueblo Bonito Rose, Sunsets & Sushi Bar, overlooking Médano Beach, has been enlarged to accommodate up to 40 additional diners. The sushi offerings and Asian entrees have been expanded at this hot spot, which is known for its live music and spectacular sunsets.
To keep up with these and future upgrades, be sure to keep an eye out for Pueblo Bonito's Gourmet Guide, a magazine which is distributed to all guest rooms at the Pueblo Bonito Resorts properties in Los Cabos. Read about the Pueblo Bonito gastronomy experience, review recipes, and get excited about your next meal!