Close
Best Rate Guarantee
Book your all-inclusive Stay
You are an Insider now! Enjoy your savings!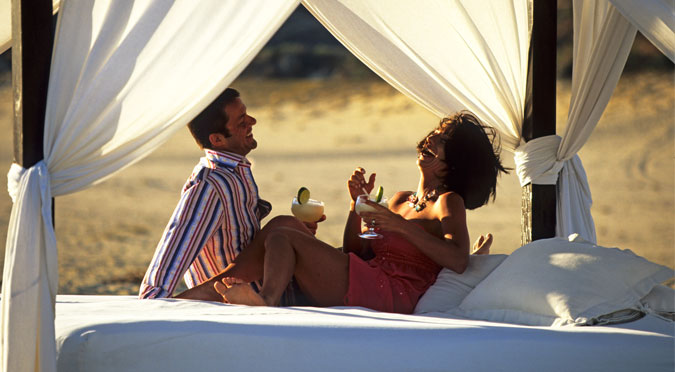 Bed Down Beachside
If you're looking to spend some time lounging by the shore – and of course you are – let us help you elevate the experience with one of our luxurious beach beds, crafted for comfort and giving you a bit of shade from the sun.
At our Pacifica resort, guests can reserve a beach bed any time from 9am to 5pm for just forty dollars if you're staying in any of the three Deluxe Room categories. If you're staying in the Ocean View and Oceanfront Suites, the cost of the beds is included in the room rate. You'll get the beach bed for the whole day, two lounge chairs, and food and drinks included if you have the Pacifica AI plan. Just make sure you reserve it a day or two in advance, as they are in high demand!
Or, for a romantic dinner on the beach, guests can reserve a beach bed with food and drinks and enjoy a private, delicious meal under the stars. Menu options include lobster or other decadent seafood choices, and dinner is served between 6pm and 7:30pm. Reserve at least one day in advance and the beach bed is yours from 6pm to midnight, or from 6pm to 7am if you would like to spend the night on the beach.
If you're staying at our Sunset Beach resort, you can reserve a beach bed for the day for fifty dollars, no matter what room category you're staying in. This comes with a bottle of sparkling white wine to keep you refreshed as you work on that tan. Reservations can be made at the main pool Aqua Bar and should be made a day in advance, just to be safe.
So make a reservation and soak up some sun in style and comfort at our Pueblo Bonito resorts!