Close
Best Rate Guarantee
Book your all-inclusive Stay
|
You have unlocked your Insider Rates! Enjoy your savings!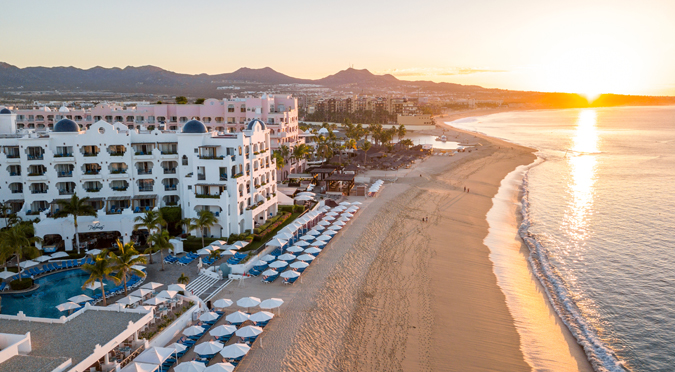 Best Beaches for Swimming in Cabo
May 14, 2021
From bustling to laid-back, touristy to tranquil, Baja California's beaches run the gamut, but four Cabo beauties stand out as stunning, swimmer-friendly options for those who can't resist taking a dip in our clear, turquoise waters. A note of caution, however: Strong waves and undercurrents make some beaches along the Sea of Cortez off-limits for swimmers so be sure to keep an eye out for these reg-flagged coastlines.
Many visitors - and plenty of locals - consider Medano Beach to be Cabo's #1 stretch for swimming. The very popular beach spans two miles of golden sand and calm waters, inviting sunbathers to relax and unwind under a beach umbrella while swimmers take a refreshing dip. Water sport rentals abound, including kayaking and parasailing. Best of all, guests of Pueblo Bonito Los Cabos and Pueblo Bonito Rosé can enjoy it with incredible ease as both resorts sit directly on this sunny stretch. Guests of Pueblo Bonito Sunset Beach, Pueblo Bonito Pacifica and Montecristo Estates can use the complimentary shuttle to visit Médano Beach.
Located between Cabo and San Jose del Cabo, Chileno Beach is another favorite for swimming. Awarded the international Blue Flag certification for water quality, this beautiful beach is a bit more laid-back and, because motorized water sports aren't allowed here, it offers a tranquil backdrop for swimming and snorkeling. Spend the day beneath a shady palapa or grab some snorkel gear.
On any given day, you'll likely spot a stingray or sea urchin lurking just below the surface.
If you have your heart set on snorkeling colorful coral reefs, head to more secluded Santa Maria Beach, a famed snorkeling beach and protected area that also holds the international Blue Flag certification. Lifeguards are on duty year-round and if you time your visit to coincide with Cabo's popular whale-watching season, you might even spot a friendly Humpback whale.
A bit off the beaten track, Playa Palmilla is another of Cabo's all-time best swimming beaches. Thanks to a protected cove and crystal-clear waters, this Blue Flag certified beach offers exceptional conditions for swimming. Plentiful lifeguards (and fewer beach vendors) along this mile-long, crescent-shaped shore make Playa Palmilla especially ideal for families.
Reserve your escape to Pueblo Bonito Resorts today and enjoy one of our many swimming pools firsthand.
.