Close
Best Rate Guarantee
Book your all-inclusive Stay
You are an Insider now! Enjoy your savings!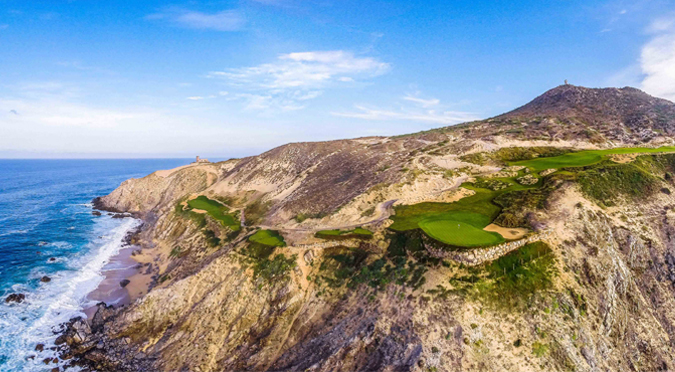 Blowing Out the Candles: Quivira Marks its One-Year Anniversary
Quivira Golf Club, the award-winning Jack Nicklaus Signature Golf Course that has redefined the Cabo golf experience with its "wow" factor, celebrates its one-year anniversary today, December 4th. Few golf clubs anywhere in the world have made a more auspicious debut than this spectacular layout, which begins at sea level before taking players on a roller-coaster journey at the tip of the Baja Peninsula. The rugged, windswept 7,139-yard course skirts vertical granite cliffs high above the sea, weaves through gigantic rolling dunes, darts inland across desert foothills, and plunges down the face of a mountain to bring players back to sea level at the finish.
Shortly after its opening, Quivira was named the "Best New International Course" of 2014 by GOLF Magazine. It was also crowned the "Development of the Year" by Golf Inc. These awards have generated plenty of buzz in a destination routinely celebrated as the finest golf destination in Latin America.
And the coverage continues. In a "Strategy by Jack Nicklaus" feature in the October issue of Golf Digest, the designer characterized Quivira's short par-4 fifth hole as "A Big Tease," counseling readers on the risk-reward decision to "protect your score or have some fun" by going for the glory…or playing smart. In Golfweek's "Ultimate Guide to Golf Course Living and Great Escapes – 2016," Bradley S. Klein kicks off his "Big Digs" story with an admiring appraisal of the gravity-defying construction process at Quivira. "To build great courses, architects sometimes have to tame the most extreme terrain," Klein stated, a reference to Nicklaus's ability to sequence holes along "towering bluffs topped by sand dunes and sheer rock walls."
The plaudits and acclaim heaped on the golf course have injected new energy into the hotel and real estate components at Quivira Los Cabos. Two new Club Level buildings at Pueblo Bonito Pacifica Golf & Spa Resort, the hotel of choice for visiting players, will add 47 guest rooms and enhanced amenities upon completion in 2016. According toEnrique Gandara, Vice President of Sales and Marketing, more than 60% of the condo units in the seven residential towers at Copala are sold out. Investor interest is also strong at Coronado, an under-construction collection of single-level hacienda-style homes starting at $1.5 million that offers panoramic views of the ocean and equally fine views of the emerald-green fairways of Quivira Golf Club, Cabo's hottest newcomer.