Close
Best Rate Guarantee
Book your all-inclusive Stay
You are an Insider now! Enjoy your savings!
Insider Savings
Submit your email address and receive a promo code,
exclusively available for Pueblo Bonito insiders!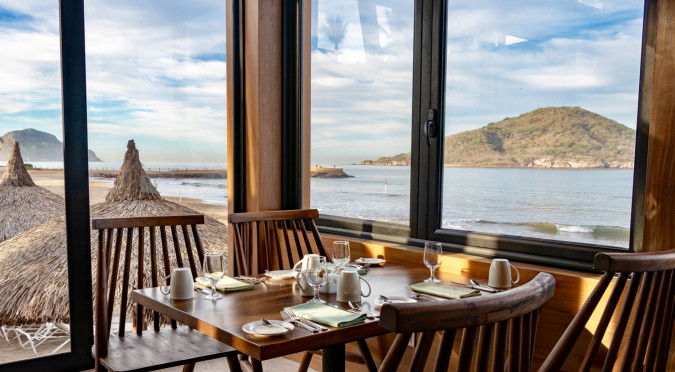 Cocktails with a View at Pueblo Bonito Resorts
Perusing our past blogs, you'll quickly learn that a Pueblo Bonito vacation offers countless opportunities for adventure and daring. Sometimes, though, you just want to kick back and take in the natural beauty of our seaside paradise. If you're in the mood to spend an afternoon or evening sipping delicious craft cocktails while marveling at the stunning seascapes of Los Cabos or Mazatlán, our resorts offer several exclusive restaurants and bars staffed by expert mixologists eager to share their latest creations.
At Cilantro's Restaurant, located at Pueblo Bonito Los Cabos, you can enjoy an unobstructed view of the setting sun from the restaurant's elegant beachside terrace. Next door, at Pueblo Bonito Rosé's Sunsets & Sushi Bar, you might decide to gaze out on the magnificent El Arco rock formation rising from the Sea of Cortes, or instead turn to the state-of-the-art flat-screen TVs to watch a rousing concert or sporting event. At Pacifica, our adults-only resort, Peninsula Restaurant and Bar offers a more formal dining experience, with plenty of outdoor seating so you can bask in the warm sea breeze as you sup or sip. Another great spot at Pacifica for ocean views and cocktails is the Whale-Watching VIP lounge, available exclusively to guests of the Towers.
Folks looking to catch the latest game (whatever that game may be) should also check out Cíbola, nestled in the Clubhouse at Montecristo Estates. At Cíbola you can alternate between watching the game—whether football, basketball, baseball, soccer, or otherwise—and taking in the tranquil seaside vista, all while indulging in an array craft cocktails, fine wines, or draft beers. Meanwhile, our other Clubhouse, at Quivira Golf Club, with its outdoor seating and slatted rattan awnings, provides another perfect spot to indulge in seaside libations.
The warm wood interior of Sunset Beach resort's Lobby Bar offers a classic, classy ambiance with some of the best espresso and tropical drinks available anywhere, and an adjacent open-air terrace where you can watch for migrating whales. Head upstairs to Sky Pool, where the infinity pool really does seem to stretch forever (coincidentally, "forever" is the amount of time you'll be tempted to stay at Sky Pool enjoying the food, drink, and view).
At Pueblo Bonito Mazatlán, guests can relax on the beachfront terrace of Cilantro's (not to be confused with the restaurant of the same name at our Los Cabos resort), or opt to dine under the stars at Pescados, the innovative Asian fusion venue whose signature cocktail is the electrifying Red Dragon. At the nearby Emerald Bay resort, La Cordeliere, with its shaded outdoor seating, hosts a wildly popular Sunday Champagne Brunch, and The Bistro at Emerald Bay features a delightful menu of handpicked wines to imbibe on its trendy waterfront terrace. Reserve your culinary escape to Pueblo Bonito Resorts today.
.