Close
Best Rate Guarantee
Book your all-inclusive Stay
You are an Insider now! Enjoy your savings!
Insider Savings
Submit your email address and receive a promo code,
exclusively available for Pueblo Bonito insiders!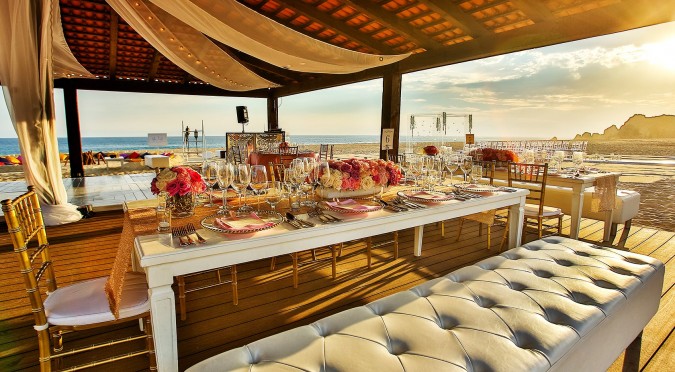 Destination Weddings on the Rise at Pueblo Bonito Resorts
According to TheKnot.com, Mexico hosts one out of nine nuptial celebrations that Americans experience outside the continental United States.
And while destination weddings continue to gain in popularity, there is one Mexican destination that stands above all others for dramatic beauty and prestige: Los Cabos, specifically the family of Pueblo Bonito Resorts clustered at the tip of the Baja Peninsula.
Sunny weather, gorgeous beaches and direct flights from most major U.S. cities have put Los Cabos squarely in the crosshairs of prospective brides and grooms seeking an unforgettable place to exchange vows.
Destination weddings are a specialty of Pueblo Bonito Resorts. The hospitality company's expert team of savvy planners are up to snuff on the latest trends to be shared with those who dream of tying the knot in Mexico's most desirable getaway. Cabo is a place where sea, sand and sky can captivate your senses, where you can say "I do" on a secluded beach to the sensual rhythms of Pacific waves.
Pueblo Bonito Pacifica and Sunset Beach Resorts, each set on a glorious 2.5-mile stretch of pristine beach 10 minutes from downtown Cabo San Lucas, offer a broad range of regional Baja elements that couples can use to (literally) spice up their very special occasion. In addition, Pueblo Bonito's wedding specialists can personalize and enhance the storybook setting to suit each couple's preferences, especially those seeking to embrace the local culture.
"We continue to get a huge amount of requests for destination weddings," said Maira Gallegos, Pueblo Bonito's group sales director. "And what we're finding is that many couples today want to do things differently than their parents and grandparents. Many of them feel that by incorporating local cultural touchstones, their whole wedding experience will be that much richer and more memorable."
For example, there was a time when only couples of Latin descent requested a Mariachi band for the cocktail hour. Not anymore. Even Anglo-Saxon couples love the music—and the fun photos taken with musicians in full festive attire. In addition, bonfires on the beach are a big hit with younger brides and grooms--currently, up to 50% of couples prefer bonfires to the classic rehearsal dinner.
"Bonfires allow both families to come together in an informal setting," Gallegos explained. "It's a great way to break the ice. Everybody can kick off their shoes and get to know each other around the fire, maybe even roast marshmallows and make S'mores. Bonfires are especially good at sunset on arrival day or after-hours the day of the wedding, after the music and dancing have concluded."
Other wedding components with local flair include photo booths with Mexican props (including sombreros); a wedding cake made with Mexican churros (fried-dough pastry) as opposed to the traditional white wedding cake; signature drinks made with mezcal or tequila; and informal taco stations and carving stations instead of formal plated dinners.
For décor, Gallegos pointed out that string lights and chandeliers are currently popular, as is the use of foliage and herbs such as rosemary and lavender. Rustic setups, as opposed to formal trappings, are preferred by contemporary couples. For them, macramé table runners, rectangular wooden tables and hand-made wooden centerpieces add a Mexican touch—the just the right amount of warmth.
.