Close
Best Rate Guarantee
Book your all-inclusive Stay
You are an Insider now! Enjoy your savings!
Insider Savings
Submit your email address and receive a promo code,
exclusively available for Pueblo Bonito insiders!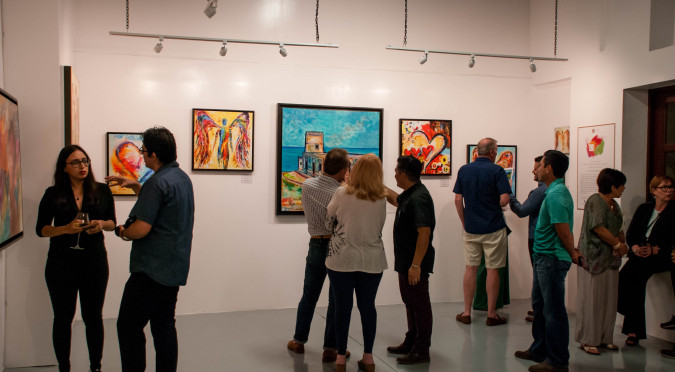 Ivan Guaderrama's Art of Touch: The Legend Comes to Life at the Market at Quivira
Many of the greatest artists of the 20th century—Wassily Kandinsky and Mark Rothko immediately come to mind—were fascinated by the dynamic interplay between the work of art and the viewer. So much of the artwork they created was devoted to pushing the bounds of this complex and intimate relationship. In the 21st century, local Los Cabos artist Ivan Guaderrama continues the tradition of deliberate and provocative viewer engagement with "The Legend Comes to Life," a breathtaking series of paintings now on display at The Market at Quivira, through the end of May. Part of the Q Life's "Cultural Experiences" pillar, this exhibition promises an interactive experience distinct from any you've likely encountered before. You are strongly encouraged to touch the paintings, triggering a range of musical tones that vary in timbre and pitch depending on where you tap, press, or caress the canvas. Other artworks are designed to be viewed through a special smartphone app Ivan has developed to turn the static image into a dazzling mobile display of color, contour, and light. At Pueblo Bonito, we're humbled that Ivan has given us the opportunity to participate in such cutting-edge artistic exploration. We look forward to continuing to bring you the very best in art and culture that our astonishing Los Cabos community has to offer. Enjoy Ivan's art Monday through Saturday, 9am to 2pm, or Monday, Wednesday, and Friday evenings, 6:30 to 9pm.
Book a cultural experience at Pueblo Bonito Resorts!
.