Close
Best Rate Guarantee
Book your all-inclusive Stay
|
You have unlocked your Insider Rates! Enjoy your savings!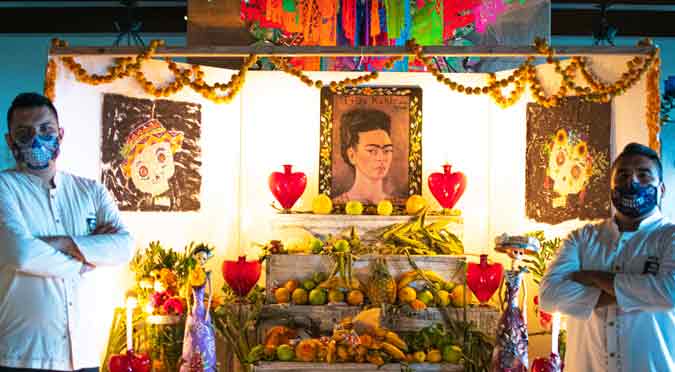 Pueblo Bonito Resorts Celebrate Dia De Los Muertos
Oct 01, 2021
Similar to Americans' beloved Halloween, Dia de los Muertos (or Day of the Dead) celebrates the period when the veil between our world and the realm of the dead is believed to be at its thinnest. Although the two holidays share some similarities, they are not same. While Halloween tends to focus on the spookiness of the underworld and the fear of death, Dia de los Muertos is about remembering and honoring the souls of the departed with laughter and joy. This year, at each of our Los Cabos locations, we'll commemorate the days, too, and encourage you to join us and experience this uniquely Mexican holiday in style.
Dia de los Muertos spans two calendar days, November 1st for All Saints' Day and November 2nd for All Souls' Day. True to the holidays' indigenous roots, these dates coincide with the autumn maize harvest. And so it is, with a nod to the season's bountiful harvest, that several Pueblo Bonito resorts will serve themed meals to complement our colorful altar displays that honor the dead for all our guests' personal reflection. Then, wherever you stay, have a meal with us.
High on a bluff overlooking the ocean, settle in for breakfast at Cibola at Montecristo Luxury Villas where we'll serve you Mexican hot chocolate and pan de muerto, a sweet, anise-flavored roll topped with decorative skulls and bones to represent the circle of life. On the 2nd, Cibola will debut a five-course Mexican tasting menu to feature traditional Dia de los Muertos fare, including our prized mole and an assortment of pumpkin desserts.
Those in the mood for candlelight might reserve a table at LaFrida on Sunset Beach. This AAA Four Diamond Award winning restaurant—decorated with inspiring prints by the restaurant's namesake, Frida Kahlo—will toast to the holiday on both November 1st and 2nd with special "Day of the Dead" tasting menus.
And if these aren't enticing enough, three mouthwatering buffets, each staged on November 2nd in different locations, will delight your gastronomic beachside fancies. Accompany your meal while sitting inside or out, with a lively mariachi band at Sunset Beach's La Nao restaurant or listen to the surf while enjoying our chefs' holiday menus at Pueblo Bonito Pacifica or Rose's Mare Nostrum.
To take advantage of any of Pueblo Bonito's "Day of the Dead" specials, check our website and contact any one of our locations' hotel concierges for event dining times, reservation policies, and surcharges for celebratory meals.
.