Close
Best Rate Guarantee
Book your all-inclusive Stay
You are an Insider now! Enjoy your savings!
Insider Savings
Submit your email address and receive a promo code,
exclusively available for Pueblo Bonito insiders!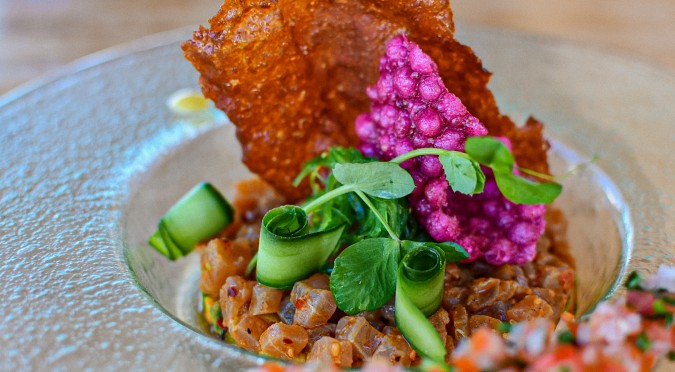 Spotlight: Casa 46 Welcomes Back Chef Marino
Mar 15, 2021
Overlooking the beautiful Plaza Machado and exuding a comfortable yet elegant atmosphere, Casa 46 is already a Mazatlán-must for foodies and casual diners alike. However, should you need further temptation, let it be our brand-new menu, replete with innovative dishes created by our award-winning culinary artist, Chef Marino. Head chef at Casa 46 several years ago, Marino has returned to, once again, delight your palate and surprise your senses. We met with him to learn a little bit about his inspirations and the new menu:
1) Why did you decide to become a chef? Can you tell us a little bit about your background? I'm from the state of Guerrero (Mexico). My first experience in the kitchen was circumstantial: I had neither knowledge nor experience, but once I entered the kitchen, I knew that I wanted to dedicate myself to cooking.

2) What inspires you in your cooking? I am inspired by creativity, discipline, and a yearning for perfection.

3) What is special or unique about the ingredients that you like to use? I prefer to use fresh, local, and sustainable products, and also those that are unique and exclusive.

4) What are your favorite dishes on the new Casa 46 menu? What do you recommend to the discerning diner? That's a tough question! Each of the dishes has a different personality, and each represents something different: a different region, ingredient, trend, or tradition. This menu has a wide variety of flavors, with dishes rich in aromas, textures, and colors; without a doubt, we have something for every palate.
Reserve your Mazatlán getaway today, complete with an evening of fine dining and culinary bliss at Casa 46.
.