Close
Best Rate Guarantee
Book your all-inclusive Stay
You are an Insider now! Enjoy your savings!
Insider Savings
Submit your email address and receive a promo code,
exclusively available for Pueblo Bonito insiders!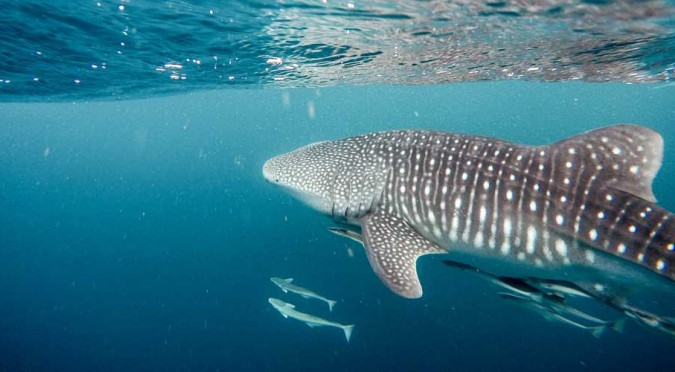 Swimming Among the Whale Sharks with Cabo Adventures
Feb 14, 2020
Hailed by USA Today, NatGeo, Travel Channel, and other major media outlets as one of Mexico's premier adventure tour companies, Cabo Adventures has thrilled countless visitors to the Baja Peninsula over the past decade. With all the tour options available, it's difficult to choose a favorite, but the spectacular Whale Shark Encounter is definitely at the top of our list. The Whale Shark Encounter tour starts with a scenic two-hour drive from Los Cabos to La Paz in a luxurious air-conditioned van. Along the way, your expert bilingual guide will introduce you to the many stunning features of the landscape. Then, from La Paz, it's just a quick boat ride to the hunting ground of the whale sharks. You're probably picturing a massive, man-eating monster à la Jaws, but in fact, nothing could be further from the truth. Whale sharks are indeed massive—adults can weigh over 20,000 pounds and stretch more than 30 feet from tip to tail—but they're also some of the gentlest giants in the sea. Whale sharks move very slowly and feed on plankton and other tiny creatures; thus, they pose no threat to humans. As you and your guide snorkel among these enormous, awe-inspiring fish, keep watch for other majestic marine life, including dolphins, whales, and rays. Reserve your adventure-packed Cabo getaway today.
.