Close
Best Rate Guarantee
Book your all-inclusive Stay
You are an Insider now! Enjoy your savings!
Insider Savings
Submit your email address and receive a promo code,
exclusively available for Pueblo Bonito insiders!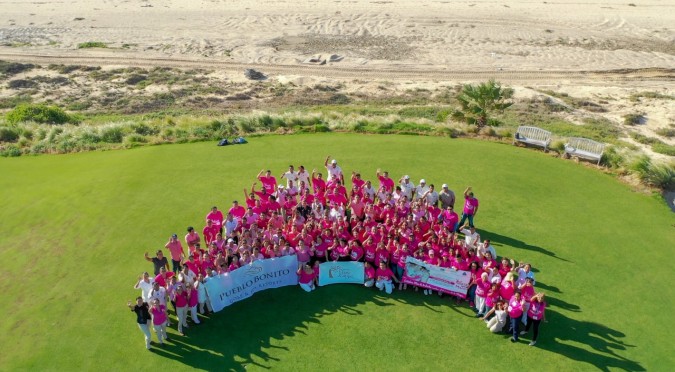 The Letty Coppel Foundation's Battle Against Breast Cancer
Over the past 15 years, the Letty Coppel Foundation has spearheaded countless philanthropic initiatives to improve the lives of the underserved in Los Cabos and Mazatlán. Just last month, in partnership with Sanitary Jurisdiction 04 Los Cabos, the Foundation organized a series of events through most of October to help fight breast cancer, starting with a full day of informative talks to educate the public about the many resources and strategies for breast cancer prevention. Pueblo Bonito was proud not only to host these talks, which reached so many in the greater Cabo community, but also to participate in one of the Letty Coppel Foundation's most honored traditions, the human ribbon. On October 18, Pueblo Bonito and Quivira staff members were joined on the beach in Quivira Los Cabos by personnel from the health sector. All were dressed in pink as they gathered to stand side-by-side to form the ribbon and raise awareness about this deadly disease that affects thousands of women every year. We look forward to continuing to give back to the community via the Letty Coppel Foundation, and to working towards ensuring that every person in Los Cabos and Mazatlán has access to the services they need to live a long, healthy, and happy life.
Visit the Letty Coppel Foundation website to learn more about our work to help our local communities.
.