Close
Best Rate Guarantee
Book your all-inclusive Stay
|
You have unlocked your Insider Rates! Enjoy your savings!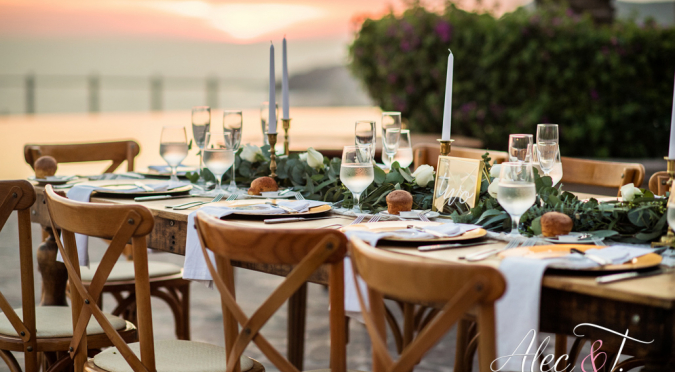 Wedding Trends at Pueblo Bonito Resorts
Feb 16, 2018
There'll always be a place for traditional nuptials, but the style trends for destination weddings in Cabo San Lucas, a white-hot spot to tie the knot, are changing as couples embrace the local culture.
Pueblo Bonito Pacifica and Sunset Beach Resorts, each set on a glorious stretch of pristine beach 10 minutes from downtown Cabo San Lucas, offer a broad range of regional Baja elements that couples can use to (literally) spice up their very special occasion.
Cakes
Instead of the traditional white wedding cake, couples can opt for a cake made with Mexican churros (fried-dough pastry); a cake made with whole cheeses and decorated with herbs and local wildflowers; or a cake decorated or made with macaroons provided by the Chocolate Shop at The Market at Quivira. (The flavors of "designer macaroons" range from margarita and Mexican hot chocolate to 100% Mexican vanilla). In addition, chocolate-covered strawberries "disguised as a bride and groom" are available in The Market and add a subtle touch to the sweet table.
Mixology
Signature drinks? Mezcal, the smoky agave-based liquor, is very trendy among millennials. Mezcal tastings can be organized at the rehearsal dinner with sal de gusano (worm salt), a revived Mexican tradition. Toasts are now made with tequila instead of sparkling wine or Champagne, while favors for guests can be mini bottles of tequila or mezcal or small bottles of Corona beer. Finally, local liqueurs such as Damiana (a Baja plant which is supposedly an aphrodisiac) or herbs from the chef's garden at Pacifica are added to the signature drinks.
Entertainment
There was a time when only couples of Latin descent requested a Mariachi band for the cocktail hour. Not anymore. Even Anglo-Saxon couples love the music—and the fun photos taken with musicians in full festive attire. Bonfires, especially at Pueblo Bonito Pacifica, are increasing in popularity. Currently, half the couples prefer bonfires to the classic rehearsal dinner. Folk music is also on the rise, with a Mexican harpist often alternating with a DJ.
Gastronomy
A taco station with a live chef is very popular for the rehearsal dinner and is even beginning to replace the plated dinner following the wedding. Baja-style and central Mexico tacos are both popular. So are live stations with chefs to carve the meats and fish. Today's couples also like the instant flaming of food as opposed to traditional buffets or formal dinners. As for the food itself, green ceviche—a dish made with local fish, cilantro and green chile and served in tequila cups—is a current favorite during the cocktail reception or as an appetizer at dinner. Spicy tuna toasts, another fresh local product prepared with basic ingredients, are also very popular.
Decoration and Style Trends
The colors of white and violet, accented by palettes of nude and burgundy, set the tone
for 2018 nuptials. These colors are often combined with gold and rose gold touches at the tables. Along with string lights and chandeliers, use of foliage is still a very strong décor theme. Eucalyptus and herbs, such as rosemary and lavender, frequently are used on tables and entrances, in bouquets, signature drinks and bow decorations, and as photo backdrops. Rustic setups with macrame table runners, rectangular wooden tables (no tablecloths) and centerpieces made of wood and jacales (tiny thatched-roof huts) are also gaining in popularity.
Start planning your dream destination wedding in Cabo San Lucas or Mazatlán!
.